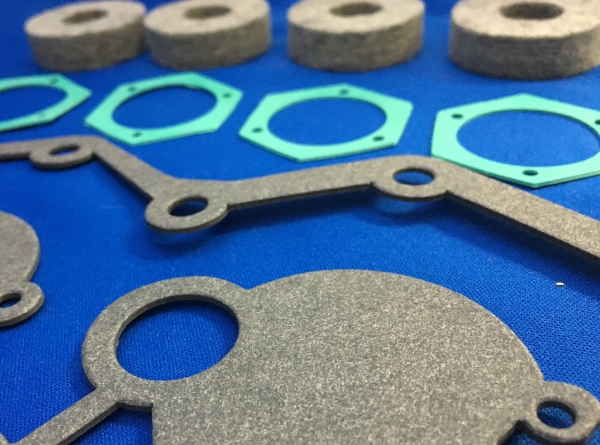 Check Valve Gasket
Check valve gaskets are suitable for a wide range of industrial, chemical, and environmental applications. The pressure differential for your application will determine which material is best suited for your check valve gasket needs. Commonly used for injection molding and automotive parts, AFGCO manufactures a wide range of valve gaskets, including:
Round diaphragms
Standard flat gaskets
Custom valve gaskets
Check Valve Gasket Material Options
Our inventory of rubber gasket materials includes a wide range of elastomers and durometers (hardness), elongation characteristics, and tensile strength options. If you are unsure which material is suitable for your application needs, please contact us.
Silicone Rubber

Well-suited for low and high temperature applications. Silicone rubber is available in a wide range of durometers and grades.

Flurosilicone

Resistant to aging and weathering, flurosilicone resists oxidation from chemicals, solvents, oils, and fuels.

Viton® rubber

High-performance rubber option resistant to extreme temperatures, acids, and hydrocarbon fluids. With exceptional flexibility and gas permeability, it is suitable for challenging environments and applications.
Application Uses for Rubber Check Valve Gaskets
Applications that benefit from check valve gaskets include:
Pressure sensors
Gas and liquid pipelines
Water treatment centers
Chemical manufacturing
Automotive components
Piping applications
Injection molding
Food processing
Advantages of AFGCO Custom Rubber Gaskets
Decades of custom gasket manufacturing knowledge and industry expertise has made AFGCO an industry-leading gasket manufacturer for over 70 years. Our rubber gasket check valve capabilities include the following:
Ability to supply high and low volume production runs
Customization options/material selection based on pressure or chemical environment as well as temperature extremes
Wide range of materials in-stock and ready for custom orders
Competitive quotes and pricing
Get the Custom Rubber Valve Gasket You Need
With in-stock materials and quick turnaround, we can manufacture the rubber valve gaskets with a quick turnaround. Call us at
708-780-9000
or
request a quote
today.