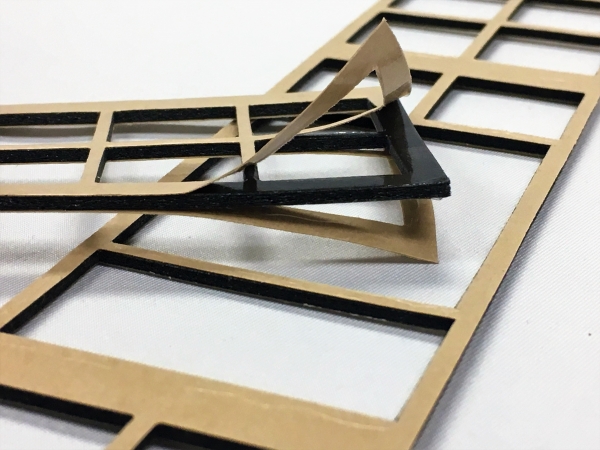 Quality Custom Die Cut Gaskets
Accurate Felt & Gasket (AFG) specializes in precision die cut industrial gaskets. Our state-of-the-art equipment includes high-speed punch presses ranging from 24 tons to 90 tons, rotary cutting capabilities for high precision applications, and a traveling head press with auto-nesting software for maximum material yield. Our custom die cutting operations are cost-effective and give us the flexibility to produce the simplest or most challenging gasket shapes.
AFG can die cut gaskets in single pieces in sizes from 1/8" up to 60". For larger gaskets, or gaskets that exceed the size of the material available, we create multi-part gaskets with special dovetails that bring the individual pieces together into a single gasket to match your specified dimensions. Whether you need just a handful of custom die cut gaskets or several million, Accurate Felt & Gasket can meet every die cutting need.  
In addition to precision die cutting, we offer slitting, laminating, and other services to take your project prototypes to production to finish.
Interested in AF custom die cut gasket services? Request a quote for the custom die cut gaskets you need online.
AFG Precision Die Cut Gaskets
Die cut gaskets compress to create a seal between two surfaces. Getting a tight, leak-free seal can be challenging, especially when dealing with different sizes, shapes, and surfaces. Custom die cutting can help you achieve the shape and features needed for your sealing application.
Precision die cutting involves using a press and different types of dies to cut and shape gaskets from rolls or sheets. This process produces precise cuts and angles, allowing for the creation of tabs, contours, slits, ovals, and other shapes or customizations you require. Custom die cutting is an ideal solution for projects requiring unique shapes, specific radii, or special features.
Factors to Consider When Selecting Die Cut Gasket Materials
When considering precision die cutting for custom industrial gaskets, it is also important to think about the materials being used for the gaskets and seals. Common factors for consideration include:
Application: when choosing precision gasket materials, the specifications and actual application should be considered.   
Temperature: temperatures dictate the choices for gasket materials, especially when higher temperatures are involved where gasket joints need to be sealed. The higher the temperature and closer range to the gasket's operating temperature often narrow the choice of potential materials.
Chemical Compatibility: industrial gaskets seal against different fluids and gases. It is important to review chemical compatibility when selecting materials for your custom die cut gaskets. We can help with this!
Environmental Pressure: internal pressure of fluid is another factor to examine when choosing gasket material. For severe cycling or pressure changes occurring frequently, selecting a stronger gasket material is advisable.
Additionally, it is important to note that field environments should be considered before a gasket material is selected. OEM products are usually tested under laboratory conditions, making them markedly different than non-laboratory environments.
Precision Die Cutting Material Options for Custom Gaskets
Knowing that our customers require custom gaskets in various materials to meet their needs, we provide precision die cutting for every material we work with, including: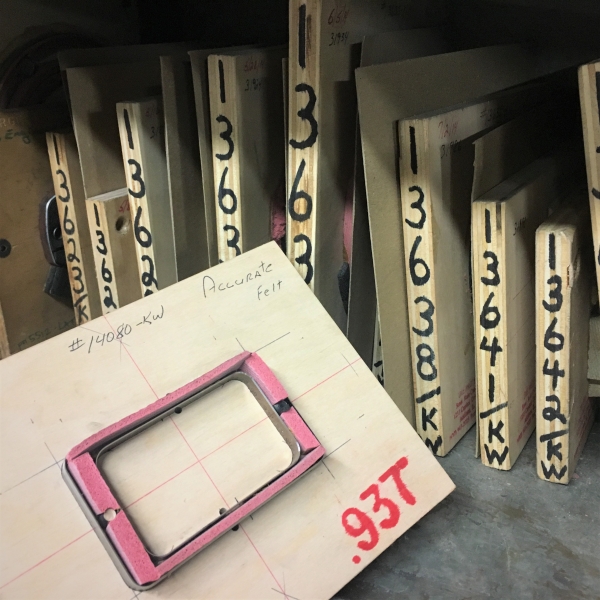 Custom Die Cutting Gaskets with Lydall / Interface Materials
We've also been partnered with Lydall / Interface Materials for over 60 years. Interface's gasket materials are the preferred choice for precision die cut gaskets used by many major domestic and international OEMs. 
AFG is proud to manufacture custom die cut gaskets using Lydall / Interface Materials and distribute their entire line of gasket materials and electrical and mill board materials.
No matter what material you need, we can die cut your gaskets into your required shape with exceptional precision and repeatability.
Precision Die Cutting Services for Custom Gaskets
We offer precision die-cutting services to create custom gaskets that meet your exact requirements, whether it's a few prototype gaskets to one million production fuel tank gaskets. Die cutting is one of our primary gasket manufacturing processes. With over 70 years' experience, we provide high quality, custom die cutting to create even the most complex designs.
There are almost no limitations to our custom die cutting capabilities. We use a variety of dies to cut your desired shape and features, including:
Rule dies (punch sets)
Machined dies
Male/female tooling
Rotary dies
Depending on your design specifications and the material required, our industrial gasket manufacturing experts will determine which die-cutting method is best for your custom gaskets.
Custom Die Cutting Tradition
We've been die cutting gaskets to customer specifications since 1951. We are 100% committed to delivering cost-effective options with world class quality and we are confident that we have the die cutting solutions for any budget or project. We have the skills, equipment, and expertise to meet your custom die cut gasket requirements.