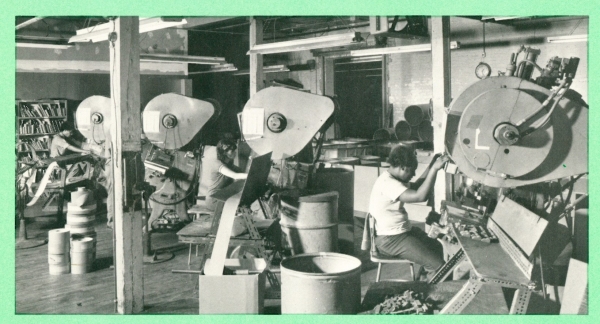 AFG's early years in Chicago
History of Accurate Felt & Gasket
Accurate Felt & Gasket was founded by Gabriel Bartscht in Chicago, Illinois, in 1951, with Paul Amendsen becoming a partner a year later. In 1963, William "Bill" Gurney came on board, and eventually became owner. Bill Gurney still owns the company, with his children, Bryan and Erin, taking control of day-to-day operations.
From day one, we've specialized in custom gaskets for all applications, serving customers around the world. We've established long-lasting partnerships—some dating back to our first days in the business—with leading materials suppliers, partnerships that help us provide our customers with the best prices for their gaskets and enable us to sell raw materials in quantities large and small to meet our customers' needs.
In the 70-plus years we've been in operation, a lot has changed. Our industry has evolved, and we've evolved right along with it. From our humble beginnings in a second floor office with a shared elevator, we've only gotten bigger and better. Since 1985, we have operated out of a state-of-the-art, 42,000 square foot facility in the suburb of Cicero, Illinois.
We continue to make significant investments in new equipment to ensure that we're on the cutting edge of technology in our industry. We strive to provide the most up-to-date fabrication capabilities and the highest quality custom gaskets on the market. New techniques and new technologies are integrated into our manufacturing processes at every opportunity.
However, through all these changes, some things have stayed the same. We're still the same family-owned, quality-focused, customer-oriented company we were at the beginning. We're still dedicated to continuous improvement, and still take pride in meeting or exceeding customer expectations with each and every order.
Request a quote on the custom gaskets or gasket materials you need, or contact Accurate Felt & Gasket for more information.