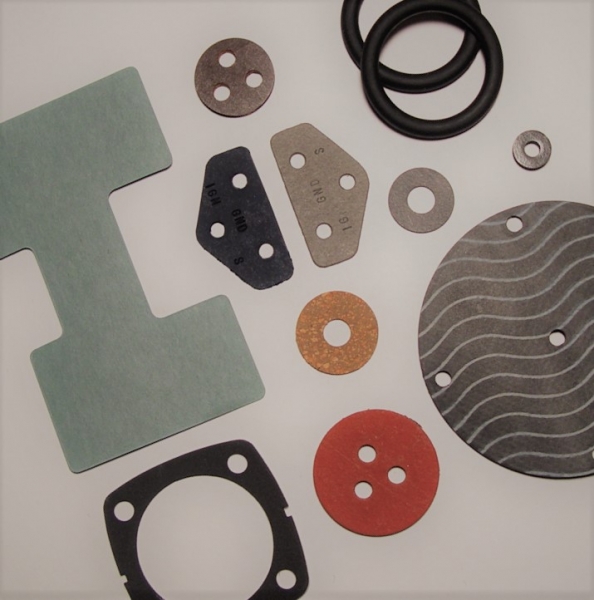 Industrial Pump Gaskets
For versatility, durability, and performance, fibre/cellulose materials are well-suited for a wide range of industrial gasket applications. Our precision gaskets offer you chemical resistance in addition to providing high-performance sealing capabilities. Thermal resistant for extreme temperatures, our custom industrial pump gaskets are available in high-performance materials to meet your industrial pump sealing needs.
We will work with you to manufacture custom pump gaskets designed for low or high-pressure applications, petrochemical environments, or temperature extremes and fluctuations. Our gasket materials are in-stock and ready to be customized for your industrial pumps. Quick turnaround times are available upon request.
Pump Gasket Material Options
While we work with an expansive selection of gasket materials, the following gasket materials are ideal for industrial pumps and valves:

Factors to Consider for Pump Gaskets
Some factors to consider when determining the right gasket material for your pump include:
Internal / external pressure.
Type of pump used.
Fluids the gasket material will be exposed to.
Any current pump sealing issues like leakage or lubrication concerns.
If you are unsure which gasket material is best suited for your pump or valve needs, please contact us. We can help you determine which material will offer you the performance you need based on your specific pump application requirements.
Industry Application Uses for Industrial Pump Gaskets
Widely used for OEM and replacement industrial pump sealing applications, industries that benefit from our custom industrial pump gaskets include:
Oil and gas
Refineries
Nuclear power plants
Water facilities
Municipalities
Pulp and paper mills
Automotive
Custom Gaskets for a Wide Range of Industrial Pumps
Our custom die-cut gaskets have been used for industrial pumps, such as:
Air Pumps
Boiler Pumps
Centrifugal Pumps
Gear Pumps
Hydraulic Pumps
Jet Pumps
Metering Pumps

Oil Pumps
Pool Pumps
Sanitary Pumps
Sump Pumps
Vacuum Pumps
Water Pumps
Well Pumps
Discuss Your Pump Gasket Needs with Us
Our quality control program and ISO 9001:2015 certification ensure your industrial pump gaskets are made to meet your performance requirements and exceed your expectations. With decades of experience and a commitment to customer satisfaction, Accurate Felt & Gasket is a trusted pump gasket supplier you can depend on. Request a quote or call us at 708-780-9000 to get a high-performance pump gasket today.