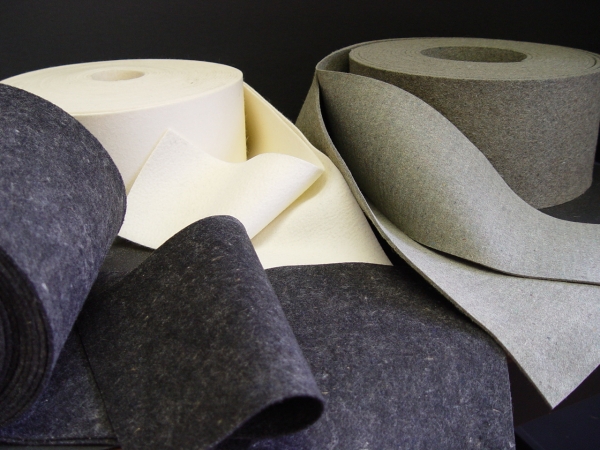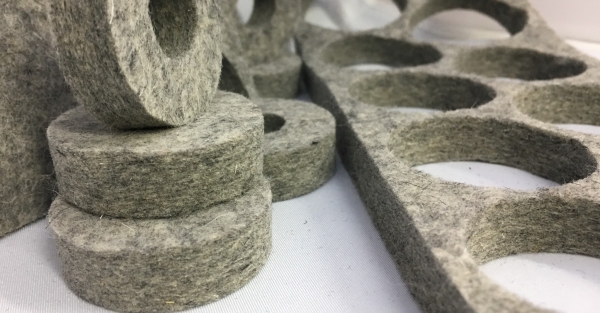 Felt Materials
At Accurate Felt & Gasket, felt is our specialty—it's right there in our name! We manufacture custom gaskets using a wide range of felt materials, and are also a master distributor who can supply felt in large or small quantities for any customer need. We can provide die cutting, slitting, laminating, and other services to give you felt gaskets or felt material that meets your requirements.
Wool Felt (SAE)
Wool felt, or pressed felt, is manufactured from premium wool fibers. Using a technique called "wet processing," these fibers are mechanically pressed into continuous layers using heat, moisture, and pressure. These layers can then be cross-lapped and combined to create felt with varying density, thickness, and wool content.
Wool felt offers many unique features and benefits. It does not fray or unravel, and maintains its other physical properties as it wears. It is highly absorbent, offers good chemical resistance, and will generally maintain its original form, even after long periods of stress. Wool is also a renewable material.
Wool felt is useful for:
Filtration
Polishing
Vibration dampening
Fluid reservoir applications
Wicking/capillary action
Flame resistance
Wool felt manufacturing is mandated by SAE standards (US Federal Specification C-F-206G) that specify strict guidelines for wool content, density, and other physical and mechanical properties. Pressed wool felt is specified by SAE standards F-1 through F-26. Felt materials with lower SAE numbers are easier to machine, and provide greater abrasion resistance and vibration absorption.
Accurate Felt & Gasket (AFG) offers wool felt in SAE grades to meet your needs.
Architectural Felt (Section 098415 Felt Wall Covering)
We also offer SAE wool felt for use in architectural applications. Wool felt provides superior sound dampening, and therefore is excellent for acoustical applications. Wool felt is also commonly used as wall covering and padding.
Wool Blend Felt (Needled)
Wool blend felt, or needled felt, is made by combining wool, synthetic, and/or other fibers in varying percentages. These fibers are blended and mechanically combined via a needle punch process. In general, needled felt contains a lower percentage of wool fibers than SAE felt (see above), but can be produced in comparable thicknesses and densities. The lower wool content of needled felt makes it a less expensive alternative.
Wool blend felt is commonly used in a wide range of applications where higher quality SAE wool felt is not needed, such as packaging, crating, dunnage, and anti-squeak applications.
Synthetic Felt
Synthetic felt is made from polyester or other man-made fibers that are combined into felt material using the same process as needled felt (see above). Synthetic felt is available in comparable densities and thicknesses to SAE wool felt, and represents an inexpensive alternative.
This general purpose material in many cases provides better performance and value than wool felt. Synthetic felt is commonly used for dunnage, anti-squeak applications, crating, filtration, padding, wipers, and a wide range of other applications.
Because it is 100% synthetic, this material is highly mildew and wear resistant, and can withstand higher temperatures than wool felt.
Felt Materials from AFG
AFG stocks a large and varied selection of felts and can fulfill your material requirements. Where there is a direct-buy dollar level to achieve, we can overcome it with our willingness to inventory materials to supply you with smaller quantities.
Request a quote on felt material for your application, or contact Accurate Felt & Gasket for more information.