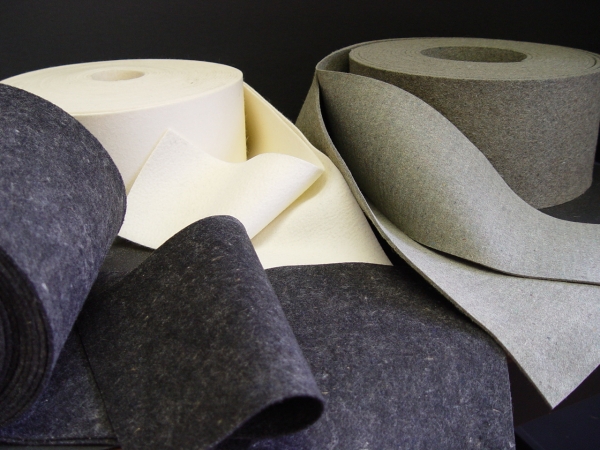 Felt Gasket Materials
At Accurate Felt & Gasket, felt is our specialty—it's right there in our name! We manufacture custom gaskets using wool felt, including pressed wool felt and a wide range of synthetic felt materials. As a master distributor, we supply wool felt seal and gasket materials in small, medium, or large quantities, based on your project requirements. View our felt material specifications for individual product details. 
Felt is a textile material made from natural and synthetic materials, including wool, acrylic, and rayon. It is widely used to manufacture felt gasket materials and create architectural felt for sound, vibration dampening, and decorative purposes.
Contact us for more information regarding our wool and synthetic gasket material options or request a quote for direct pricing information today. 
Felt Gasket Sheet Advantages
Felt gasket materials are versatile and provide a range of advantages, including:
High strength
Resistance to tearing, unraveling, and fraying
Sound insulation
Vibration dampening
Thermal insulation
Flame retardant properties
Capillary/wicking
Easily cut to the shape, thickness and size needed
Environmentally-friendly – renewable resource
To provide the best possible service for your felt gasket sheet requirements, we also offer die cutting, slitting, laminating, and other services for felt gaskets or felt material that meets your project specifications.
Felt Gasket Material Options
Are you in the market for affordable, top-quality felt gasket materials? At Accurate Felt and Gasket, we provide several unique wool felt gasket material options for your project needs. No matter the size of the project, we stock the felt gasket sheet sizes and materials you require. We provide the following felt gasket material options:
Wool Felt (SAE)
Wool felt, or pressed felt, is manufactured from premium wool fibers. Using a technique called "wet processing," these fibers are mechanically pressed into continuous layers using heat, moisture, and pressure. These layers can then be cross-lapped and combined to create felt with varying density, thickness, and wool content.
Wool Felt Advantages
It does not fray or unravel
Maintains physical properties as it wears
Highly absorbent
Good chemical resistance
Maintains original form when stressed
LEED® certified as a rapidly renewable resource
Wool Felt Applications
Filtration
Polishing
Fluid reservoirs
Oil wiper rings
Wool Felt Gasket Manufacturing SAE Standards
Wool felt manufacturing is mandated by SAE standards (ASTM D2475-01) that specify strict guidelines for wool content, density, and other physical and mechanical properties. Pressed wool felt is defined by SAE standards F-1 through F-26. View or download our felt material specifications for detailed information about our wool felt products.
Accurate Felt & Gasket (AFG) offers wool felt in SAE grades to meet your needs, with each grade offering unique properties.
Architectural Felt Wall Covering (098419) and Acoustical Wall Panels (098415)
Architectural felt and acoustical wall panels are used on walls, ceilings, and floors for aesthetics and to provide sound deadening qualities. Our architectural felt is available in an off-white or gray color or can be custom dyed to match pantone or other color samples.
Architectural Felt Wall Covering and Wall Panel Advantages
Sound deadening
Sound dampening
Vibration inhibiting
Architectural Felt Wall Covering and Wall Panel Applications
Wallcoverings
Ceiling panels
Hanging panels
Floor tiles and runners
Needled Wool Blend Felt
Wool blend felt, or needled felt, is made by combining wool, synthetic, and other fibers in varying percentages. These fibers are matted, condensed, and pressed together using a needle punch process to create a more condensed material. Needled wool blend felt is commonly used in a wide range of applications where higher quality SAE wool felt is not required.
Needled Wool Blend Felt Gasket Material Advantages
Lower percentage of wool fibers than SAE felt
Produced in comparable thicknesses and densities to SAE
Less expensive alternative to wool SAE
Needled Wool Blend Felt Gasket Material Applications
Packaging
Crating
Dunnage
Anti-squeak applications
Synthetic Felt
Synthetic felt is made from polyester or other artificial fibers combined into felt material using a needle punch process or heat. It has a soft texture and is manufactured using different fibers to produce varying hardness and strength levels. Coatings and laminations may also be applied for flame resistance or to enhance the surface finish. Synthetic felt can be brushed or vacuumed to remove debris and cleaned with water and mild soap.
Synthetic Felt Advantages
Available in comparable densities and thicknesses to SAE wool felt
100% synthetic
Highly mildew and wear-resistant
Withstands higher temperatures than wool felt
Less expensive alternative to wool SAE
Synthetic Felt Applications
Dunnage
Crating
Anti-squeak applications
Filtration
Padding
Wipers
Contact AFG for Premium Wool and Synthetic Felt Gasket Materials Today
Contact us to learn more about our high-quality synthetic and wool gasket sheets and felt material options or request a quote for direct pricing information today. Accurate Felt & Gasket is your premier source for top-quality felt gasket materials.