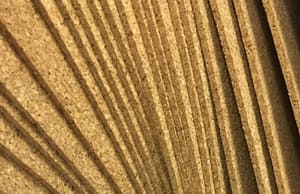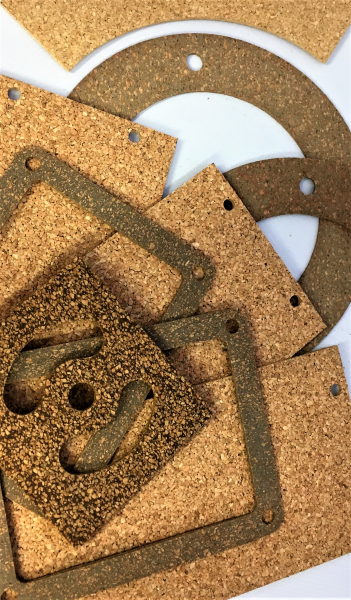 Cork Gasket Materials
Accurate Felt & Gasket (AFG) manufactures custom gaskets from cork materials. As a master distributor, we can supply cork for your application in any quantity you need or as cut gaskets. We die cut, laminate, and slit cork materials into the form to best fit your application.
Cork (Composition Cork)
The perfect material for decorative or protective backing for novelty items, composition cork is also commonly used on the back of coasters, trivets, place mats, and many other consumer products. The advantages of composition cork are two-fold: 1) it protects surfaces from being scratched; and, 2) it adds a high quality look to the finished product.
AFG can supply composition cork in continuous rolls, or slit/cut it to your desired width to accommodate your application requirements. We specialize in die cutting adhesive-backed cork to size so that all you have to do is apply the cut part to your end item.
Typical applications include bulletin boards, coasters, and lamp and pottery bases, as well as gaskets for vibration and shock in locations such as motor mounts. We supply composition cork as die cut parts, full width rolls, or slit coils at ½" wide.
We also utilize cork and rubber gasket materials for cork combined with rubber for more robust sealing applications.
Advantages of Cork
Extremely compressible
Excellent insulation & fire retardant qualities
Highly resistant to wear & tear
Unaffected by temperature extremes
Sound dampening
Resistant to seepage
Lightweight & buoyant
Virtually indestructible
Request a quote on the cork gaskets or composition cork materials you need, or contact AFGCO to learn more about suitable cork grades for your application.