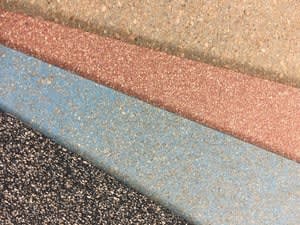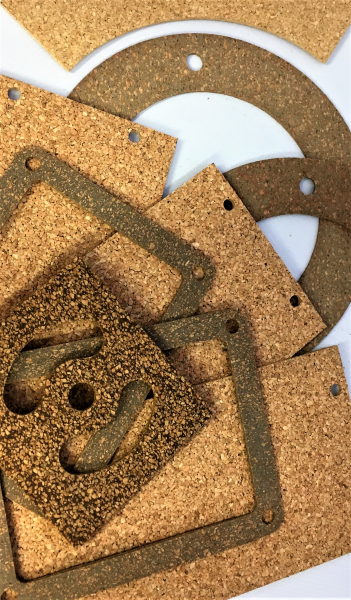 Cork & Rubber Gasket Materials
Known for its flexibility and resistance to oils, fuel, and other chemicals, cork rubber is widely used in a variety of industrial and commercial industries. Accurate Felt & Gasket (AFG) manufactures custom gaskets using a variety of high-performance cork and rubber materials. We are also a materials master distributor and can provide bulk cork and rubber materials for any application and in any quantity you may need. We offer die cutting, slitting (coils and small rolls), and other services, including laminating pressure sensitive adhesive (PSA), to provide gaskets and cork and rubber materials that meet our customers' unique requirements.
Our custom gasket experts can help determine which cork and rubber material is best suited for your application requirements. Contact us with your project requirements.
Amorim Cork & Rubber Materials
AFG stocks a variety of products from Amorim. Amorim is the world's largest producer of cork products. With nearly 150 years of experience, this Portuguese company distinguishes itself through the quality and innovation that goes into its products and its ability to anticipate and respond to market needs.
ACCOSEAL® Products
ACCOSEAL® products are especially effective in metal-to-metal joints where a gasket fits into a machined groove in a flange. Because of cork's inherent cell structure, no allowance for side flow is needed. Compressible ACCOSEAL cork and rubber materials can take the place of more expensive (and non-compressible) molded rubber O-rings. Additional benefits of Accoseal® products include:
ACCOSEAL® materials retain some of the friction of cork, which helps to reduce slippage or extrusion of gaskets.
ACCOSEAL® cork and rubber materials will easily conform to poor surface conditions and compensate for minor flange irregularities. This is especially helpful for applications where the bolt load is low.
ACCOSEAL® materials exhibit excellent resilience, which provides resistance to compression set and other fatigue effects. ACCOSEAL cork and rubber gaskets are more resistant to aging than standard rubber gaskets.
Accurate Felt & Gasket offers the following ACCOSEAL® cork and rubber materials:
ACCOSEAL® Material
Product Description

DC-100  

F229000M1S9
A general-purpose gasket and sealing material with high cork content and minimum side flow.

DC-113

F229000M1S9
Firmer than DC-100, DC-113 is made with higher cork content for narrow gaskets, instrument bezels, and the like.

DC-167

F229000M1S9
A top-quality, soft, and highly compressible material for low bolting pressure applications.

DC-179

F227000M1S9
A cost-effective, highly compressible material similar to DC-167.

DC-203

F229000M1S9
Low cost, easily compressible cork and rubber material.

DC-205

F229000M1S9
An economical, highly compressible material that offers moderate oil resistance.

DK-149

F239000M1S9
A highly compressible material that resists fatigue. Ideal for cushion pads and low sealing stress requirements.

LC-800

F229000M1S9
This cork-and-silicone material offers outstanding flexibility and resilience over a broad temperature range.

NC-709

F227000M1S9
Soft, highly compressible material with maximum oil and solvent resistance. Ideal for low bolting pressures.

NC-710

F229000M1S9
This material provides medium compressibility with maximum oil and solvent resistance. UL-listed.

NC-711

F229000M1S9
Low compressibility, but with maximum oil and solvent resistance. NC-711 is UL-listed.

NC-733

F229000M1S9
This special friction material performs well in a wide range of wet or dry friction applications. It is ideal for applications ranging from printer drives to heavy-duty agricultural tractor transmissions. Designed to withstand pressures below 6.33 kg/cm2.

NC-775

F229000M1S9
High quality and low compressibility, with good oil resistance.

NK-730

F237000M1S9
Similar to DK-149, NK-730 offers maximum resistance to oils, solvents, and fuels. This option has been discontinued. Please call us for alternative options. 
Request a quote on the ACCOSEAL® cork and rubber products you need, or contact AFG to learn more.
TECHSEAL® Products
TECHSEAL® cork and rubber materials offer unique characteristics for a wide range of industries and applications, from oil and gas to automotive to electrical equipment. TECHSEAL products combine the compressibility and recovery capabilities of cork with the flexibility and shelf life of rubber, making them an excellent solution for sealing applications.
TECHSEAL® materials are manufactured with a variety of binders in a banbury process. Nitrile and neoprene are the most common, but other specialty binders such as silicone and polyacrylates are sometimes used to enhance material performance.
Accurate Felt & Gasket offers the following TECHSEAL® cork and rubber materials:
| | |
| --- | --- |
| TECHSEAL® Material | Product Description |
| CR-55R | An economical material with good oil sealing properties and resistance to environmental deterioration. |
| CR-75 | Medium-firm material with good heat capabilities and resistance to many fuel blends. |
| HC-50 | Offers high compressibility, good oil resistance, and low swell when used with fuels and oils. Ideal for applications with low bolt pressures. |
| HC-60 | This material provides medium compressibility and good oil resistance. It performs especially well with fuel and oil exposure at medium bolt pressures. |
| HC-80 | Low compressibility and good oil resistance. Ideal for high bolt pressure applications such as automotive fuel pump and meter applications. |
| NC-60 | High quality, medium compressibility material with good oil resistance. Ideal for air or refrigeration compressors. |
| NC-80 | A firm material with high tensile strength and tear resistance and low compression set. Exhibits high heat resistance and moderate swell in fuels and oils. |
| NCA-45 | This material offers medium oil resistance and is ideal for most automotive and sealing applications, such as valve covers, oil pans, and transmission pans. |
| NCA-50 | A good general-purpose sealing material with medium compressibility and oil resistance. Provides good performance in a broad spectrum of applications. |
| SG-601 | Medium-firm material with good heat resistance capabilities and good resistance to many fuels and fuel blends. |
| SP-50 | A very soft material with good oil resistance. Conforms well in applications with flange irregularities and low load pressures. |
| SP-52 | This material provides moderate oil resistance and is ideal for oil sealing in low torque situations. Also commonly used for die ejection, furniture cushioning, and window and door insulation. |
| SP-74 | A versatile, highly compressible material. SP-74 is commonly used for die ejection, noise reduction, matting, cushioning, furniture, and anti-fatigue mats. |
| V-48 | Good resistance to petroleum-based lubricating oils. This material has a high operating temperature (up to 400°F). |
TECHSEAL® Gen 2 Products
TECHSEAL® Gen 2 products include performance-based blends of cork and rubber materials. These sealing materials are designed to provide an exceptional sealing barrier while offering durability to withstand harsh environments. Cork rubber blend options include:
Cork/SBR Blend
Cork/Nitrile Blend
Cork/Silicone Blend
Cork/Epichlorohydrin Blend
Cork/RSB Blend
| | |
| --- | --- |
| TECHSEAL® Gen 2 Material | Product Description |
| TS1521 | Ideal for low-loading applications and lubrication fluids. Suitable for engine oil and gear oil. Composed of cork/Stryrene Butadiene Rubber (SBR) blend.  |
| TS1400 | Material comprised of Nitrile Rubber (NBR)/cork. Asbestos-free. Suitable for a wide range of fluid contact including unleaded gas, E-85, B-100, diesel, engine oil, gear oil, meg coolant, peg coolant, and OAT coolants.  |
| TS7000 | Silicone rubber/cork blend. Ideal for extreme temperature applications and anti-freeze resistance.  |
| TS7100 | Cork/Nitrile (NBR) blend. Well-suited for engine fluids and oils.  Unsuitable for coolants.  |
| TS7110 | Medium-to-high loading material made of Cork/Epichlorohydrin blend. Gas-resistant, suitable for engine fluids including oils and coolants.  |
| TS1028 (2) | Ideal for gas applications. Medium-loading Cork/Nitrile blend. Suitable for natural gas and liquid petroleum gas.  |
| TS7090 | Cork/RSB blend, medium soft loading material. Well-suited for natural gas and liquid petroleum gas applications.  |