MP-15 Gasket Material
MP-15 Pro-Formance® / MicroPore® Nonasbestos Gasket Material is designed for heavy-duty applications including compressors, diesel engines, and others. It has excellent low flange pressure sealability and bolt torque retention. It is intended for applications with short duration maximum temperatures up to 205°C (400°F).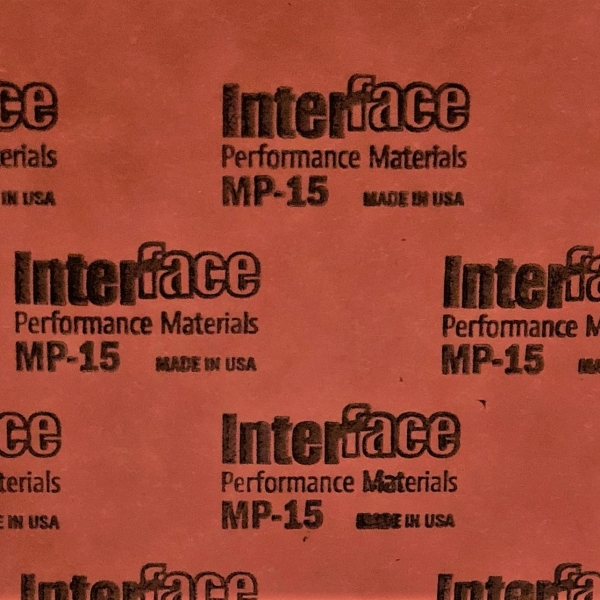 MP-15 Gasket Materials and Die Cutting for Industrial Applications
Accurate Felt & Gasket has been in business since 1951 and is ISO 9001: 2015 registered. We offer MP-15 gasket material and manufacture custom MP-15 gaskets for a range of original equipment (OE) and industrial maintenance, repair and operation (MRO) applications. 
Our MP-15 gasket material meets classification ASTM F-104: F729000M5. If MP-15 isn't the right option for your application, we also offer a wide variety of other Interface Performance Materials in full rolls, sheets or even a few yards designed to fit all your requirements. Additionally, we are proud to offer precision, custom die cutting services for all our Lydall / Interface Materials.
For questions regarding custom die cut MP-15 gaskets or any of our in-house secondary services, please call our gasket experts at 708-780-9000 . You can also request a quote directly below.
Specification Properties
| Property | Value | Method |
| --- | --- | --- |
| Density, g/cc(lb/cu.ft) | 1.54 (96) (min.) | ASTM F 1315 |
| Compressibility, % (at 34.5MPa) | 13-25 | ASTM F 36 |
| Recovery, % | 50 (min.) | ASTM F 36 |
| Tensile Strength, AMD, MPa(psi) | 10.34 (1500) (min.) | ASTM F 152 |
| Binder Type | Polychloroprene |   |
Remarks and Related Documents:
Specification values determined by the test methods required for ASTM F-104, Type 7 materials.