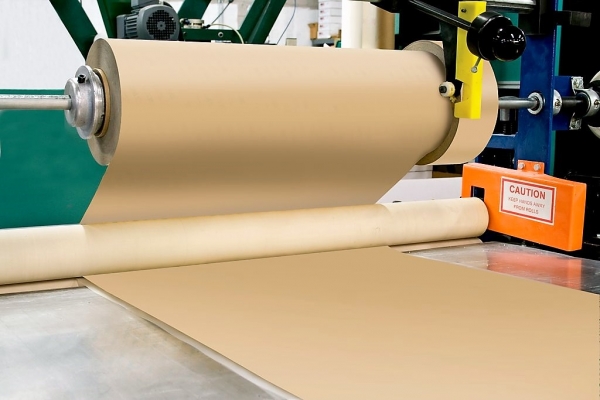 Laminating Services
Laminate services provide an easy and convenient way to achieve your desired results by utilizing heat and pressure to achieve a permanent bond. With multiple material options, our laminated rolls are affixed with PSA lamination carriers suitable for all types of standard and custom applications for numerous industries.
Accurate Felt & Gasket (AFG) laminates rubber, acrylic, and silicone-based adhesives to a wide range of materials. We can supply laminated rolls for your requirements or die cut parts with adhesive laminated. We can apply pressure-sensitive adhesive (PSA) to one or both sides of materials.
Multiple Material Laminate Options
AFG can laminate multiple materials together. Examples of this "mix and match" laminating include felt with rubber, felt with Mylar™, sponge with Mylar™, sponge with nylon, and many others. We can laminate Interface Performance Materials to non-standard options (i.e., 3/32" and 1/8"). Our 72" wide laminator allows full coverage on extra-wide materials, providing the most cost-effective laminating method.
Clean & Contamination-Free Material Surfaces
Material surfaces are critical to successful bonding. We ensure the material is clean, dry, and dust-free, with no surface contaminations. When necessary, we will prime materials before laminating (e.g., rubber).
Laminating Service Material Options
In our experience, rubber-based or acrylic-based PSA will satisfy most adhesive requirements. We have a range of options in stock for quick order fulfillment and turnaround times. Our materials include: 
Supplementary Laminate Roll Service & Adhesive Capabilities
To complement our laminating service capabilities, we provide several secondary manufacturing capabilities that reduce or eliminate the need for additional processing. Our customer-oriented secondary services encompass everything from manufacturing your custom gaskets to their final delivery at your location. AFG's additional capabilities include:
Kiss cutting
Waterjet cutting
Knife cutting
Petroleum/oil soaking
Permanent-bonded protective Mylar coating
Material certification
Joint/flange analysis
PPAPs
IMDS
Reverse engineering
JIT manufacturing
Bag & seal/heat seal
Packaging in customer-supplied boxes/bags
Custom packaging
Bar coding
Labeling
Kanban programs
Blanket orders
ASN (Advance Shipping Notice)
Global shipping
SDS
Contact Accurate Felt & Gasket to Laminate rolls, coils, and strips!
Accurate Felt & Gasket can laminate adhesive to a wide range of materials and supply laminated material in rolls, coils, strips, or die cut gaskets. Request a quote or contact us for more information. We are your trusted supplier and service provider of premium laminate PSA carriers, felt, and mylar products.